We from Hippocampe, offer almost every Diving Course for you: from Try Diving to Divemaster!

-

Our professional Instructor Team conducts all diving courses to the guidlines of the French Federation (FFESSM), ANMP, the CMAS/ IAC organisation, Padi and SSI.

-

Safety is our biggest concern but still we want to have fun while we are teaching. We are proud to offer small diving classes, learning in our open-air-classroom and of course excellent dives at our first class dive sites.

-
And all this is expecting you in the middle of our marine park.
Try-Scuba

The first dive conducted by an experienced diving instructor. Make your first diving experience without the stress of any exercises. Just relax and enjoy the divers marine life of the mediterranean.
Scuba Diving for Kids


Already from the age of 8 years you can do your first dives with us! With real diving equipment in children sizes we discover the fishes in our bay where you can reach a depth of 2m. Get your first certifications from Bronze to Gold Diver!
Scuba Diver


From the age of 10 years you can get your Scuba Diver Certification. This certification allows you to go to a depth of 10 meters. It is valid all over the world. With 12 years you can get your upgrade to the Junior Open Water Diver.
Open Water Diver / CMAS *

Start a Scuba Diving Course to get your beginner certificate!
Your Instructor will teach you the basic skills in confined water to prepare you for your open water dives. In the theory lessons you get to know the most important knowledge in physics, medicine and equipment. But don't be afraid - you don't have to sit in a classroom for hours! Your instructor will teach you with practical examples in a relaxed environment! A book and a video support your learning process.
The Open Water Diver / CMAS* certificate is valid all over the world and allows you to explore the underwater world up to 20 meters.

Specialty Course


After you got your Open Water Diver Certification you can deepen your knowledge and your skills with our specialty courses. Every course is a minimum of 2 dives. Underwater Navigation, Peak Performance Buoyancy, Deep diving and diving with a computer is important for every diver! Are you interested?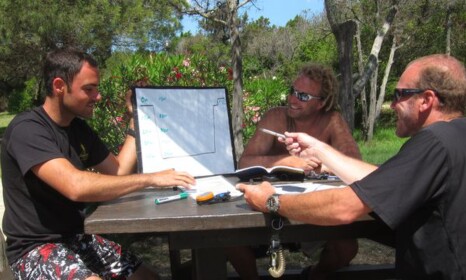 Advanced Open Water Diver / CMAS **


Deepen and expand your skills and knowledge you allready learned in the Open Water Diver Course / CMAS*. In this course your
Instructor will teach you specially in underwater navigation, buoyancy, deep diving and focus on your awarness while diving in a buddy team.

Stress & Rescue

A very intensive course, that lasts at least two whole days. Learn more about how to prevent problems and stress situations, and learn different techniques to manage problems underwater, on the surface and on land.
Ideally you take this course in a small group that enables you to train in role play situations.

Refresher Course

You have diving experience, but didn't dive for a long time? In the Refresher course the most important aspects of the Open Water Diver course become repeated.

Dive Leader/CMAS ***

Are you interested in working in the diving industry? You can start you diving career with a Dive Leader course.
Together with an instructor you will work on you skills in guiding, customer service, diving theories and many more.
Let us know if you are interested in a course. We will send you more informations!
Every participant of a dive course needs a medical certificate not older than one year